Special Guest post by Josh Elledge, Chief Executive Angel, SavingsAngel.com
Cleaning up at 60%-100% off
While the numbers of cleaning supplies I have in my inventory may not yet qualify me for TLC's Extreme Couponing, I share one thing in common with those that are on the 'Extreme' side of couponing: I pay next to nothing for them. As a rule, I seldom purchase cleaning supplies for less than 75% off.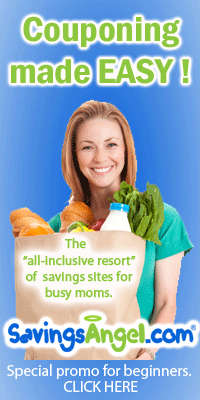 If you're watching your calendar for what items to purchase during certain times of the year, late-March and throughout April is the time of year to stock up on cleaning supplies. Families across the country are saying goodbye to Old Man Winter and starting anew with the warming weather. Spring Cleaning is a tradition that has been around throughout cultures for thousands of years. For the northern half of the United States in particular, families get to open those windows and let the dust fly while cleaning supplies do their job.
Retailers and manufacturers are keenly aware of this tradition and have anticipated our desire to give our homes a good scrub down. We can see this in the number of coupons that have been published and the number of sales that are running on cleaning supplies. Match the great coupon with the great store sale, and you'll get what I call, some 'enlightened savings!'
How do you get the best prices on cleaning supplies? In my experience, the drug store chains are your best bet. Often, you can apply your coupons from your Sunday paper (or printed from the Internet) to some fantastic sales - or deals that involve getting money back at the register. At Walgreens, you'll get Register Rewards. At CVS it's Extra Care Bucks. At Rite Aid, it's +Up Rewards. Each of these can generally be used on your very next purchase.
If you'd like to fill a shelf or two at home with your favorite cleaning supplies, you can stock up over the next few weeks and pay a fraction of what you'd spend over the course of a year. Buying cleaning supplies only when you need them is the most expensive way to go. Here are some examples of deals we saw last year to give you an idea of what to expect in the weeks ahead. These deals were pulled from our online database at SavingsAngel.com. Note that this was only one week - and doesn't come close to revealing all the deals you'll find over the next four to five weeks.
| | | | |
| --- | --- | --- | --- |
| | | | |
| | | | |
| Air Wick Freshmatic Unit Refills 6.17 oz | | | |
| Air Wick I Motion Starter Kit | | | |
| Air Wick Plug In Scented Oil Warmer Single Pack | | | |
| Air Wick Spray Refill 6.17 oz | | | |
| | | | |
| Finish Gelpacs or Powerball Tabs 20 ct | | | |
| Finish Jet Dry Rinse 8.45 oz | | | |
| | | | |
| | | | |
| Glade Relaxing Moments Spray 9.7 oz | | | |
| Lysol All Purpose Cleaner 24-32 oz | | | |
| Lysol Disinfectant Spray 12.5 oz | | | |
| Lysol Disinfectant Wipes 28-35 ct | | | |
| | | | |
| Lysol Neutra Air Freshmatic Kit 6.17 oz | | | |
| Lysol Toilet Cleaner 24-32 oz | | | |
| | | | |
| | | | |
| | | | |
| Ultra Air Wick Freshmatic Kit 6.17 oz | | | |
| Your total if you bought one of each: | | | |



Of course, commercial cleaning products aren't the only way to go. You can do quite a bit of cleaning in the home with

baking soda, vinegar, lemons, and corn starch. An Internet search will reveal many homemade cleaning ideas. When you use a coupon, many of these homemade cleaning product ingredients can also be purchased for a fraction of the retail cost as well.







The best couponers save hundreds of dollars every month at the grocery store. However, couponers can end up living very extreme lifestyles to get those savings. For over five years, SavingsAngel.com has equalized the playing field – giving extreme savings to busy families who don't have the time or ability to be an extreme couponer. Each week, SavingsAngel.com's team of more than 70 angels combines over 2,000 products on sale at local grocery and drug stores with an enormous database of over 2,000 different manufacturer coupons.

These combinations result in our members getting access to over 300 products each week for 50% off or better. Simply log in, choose the deals you want, print or clip only the coupons you need, and save hundreds of dollars a month at regional and national stores. Our angels will personally work with you to craft a plan that will help you buy healthier food at lower prices – helping you keep $200 to $400 in savings each month.

Josh Elledge is the Chief Executive "Angel" of SavingsAngel, Inc. – launched from his Holland, Michigan home in January 2007.

A husband and father of three, he now appears each week on television, many radio stations and newspapers, teaching families how to cut their grocery bill in half using the Internet.

Elledge created the technology found on SavingsAngel.com through the desire to save his own family's money.

Successfully able to cut his own grocery bill from $600 a month to less than $300 a month, his message has reached hundreds of thousands of families.

SavingsAngel.com is now growing rapidly throughout the country.

You can watch a short video at SavingsAngel.com that will explain more information about how to cut your own grocery bill in half with the help of SavingsAngel.com.

Interested in learning more about SavingsAngel?

The site says it all, but you can look at some previous articles of mine for more information -







Any questions that I can help answer?

*This post may contain affiliate links